"Rescue Roundup" - The Newsletter of the ABRL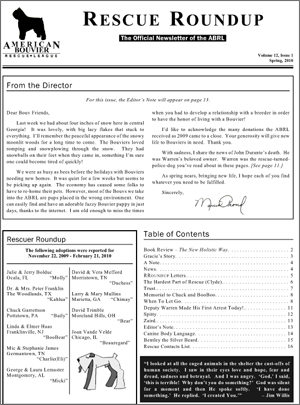 Rescue Roundup Editor - Deborah Abeles
Click HERE to view a sample of "Rescue Roundup"
The Rescue Roundup is a quarterly publication of the American Bouvier Rescue League. Yearly subscriptions are available for a minimum $10 tax-free donation to the ABRL. They can be obtained by completing a donation form and sending the form and a check for the donation amount to:
Deborah Abeles
P. O. Box 689, Cheshire, MA 01225
Phone: (413)743-4084
Article contributions are always welcome! Anything will be considered if it is of interest to people who have rescued a Bouvier, are thinking about rescuing a Bouvier, or are just interested in the breed. Please contact Deborah if you have something to submit or if you have any questions.
Some previous issues of the Rescue Roundup are available and can be obtained by sending a check for $3.00 per copy to Deborah Abeles indicating which issue is wanted. Please include an e-mail address (preferable) or a phone number as well as your address in case there is a problem filling your request.