Bouviers Available for Adoption
Thank you for your interest in adopting a Bouvier des Flandres. The Bouviers we offer for adoption have been screened by those knowledgeable in the breed and we feel they are very desirable dogs. We hope to provide them with excellent homes. For each Bouvier adopted, we ask payment for actual expenses incurred or a minimum of $300.00. To be considered as an adopter, please fill out an application.
Barron (ADOPTION PENDING)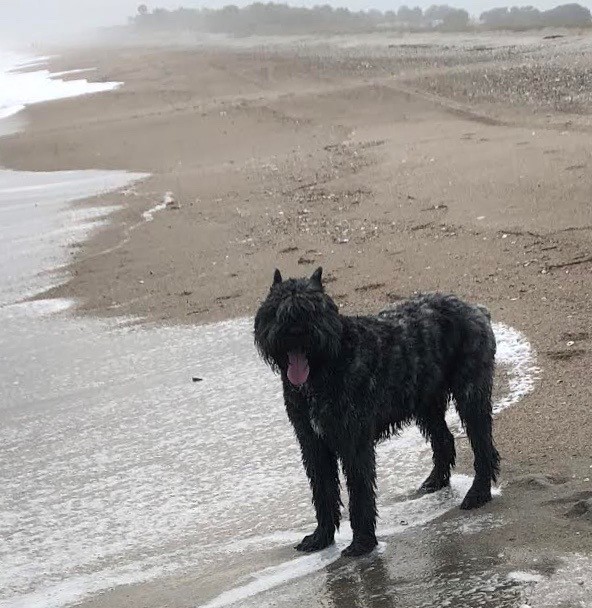 4 Years
Male
Cropped / Docked
Yes
North Carolina
**ADOPTION PENDING** FOSTERED IN NORTH CAROLINA. Barron is a handsome 86 lb., 4 yr. old neutered male purebred Bouvier des Flandres with cropped ears and docked tail. He was very reluctantly surrendered to ABRL by his loving family who have had him since he was a puppy. His house mate, a female Bouvier des Flandres, would not accept him in the household and forced Barron to retreat to the bathroom or rooms outside the main living area to prevent hostility and other-dog aggression toward him. Barron loves being with people and has not shown any aggression to visitors. When uncertain, Barron will retreat to the bathroom and hide. Barron loves the couch and comes up frequently to get scratched by his people. Due to his past experiences, he does not know how to play with toys and is anxious and shy with other dogs that are playing vigorously as he is not sure where and how the activity will end - happily or unhappily for him. In Barron's ideal home he will be the only dog (although he Loves little (small) girl dogs - so he gets all your attention - will be left home alone minimally, has a securely fenced yard (minimum 5' in height) and daily activity like hiking or walking to keep him fit and mentally stimulated. He may be a candidate for agility and this would help him to focus. Like most Bouvs, he will not self-exercise. In the past Barron has exhibited gastrointestinal issues and was put on a homemade beef diet. In his current foster home his intestinal problems have stabilized so it is unknown whether that issue was due to anxiety or if there is a true allergy to chicken. The homemade diet will need to be continued (formula will be provided.) In his foster home, for several weeks, there have been no accidents in the house. We are seeking a home where his human companions have the latitude to be with him throughout the day and where he is not left alone or separated from his family for long hours - he has had enough of that in his self-isolation from his grumpy Bouvier former companion. He worries about more dominant dogs although he is currently walking daily with other friendly dogs with no problems. Barron can pull vigorously on a leash, being reactive (not aggressive) to other dogs walking or in yards and squirrels so his person needs to be able to have the physical ability to restrain him (although he is getting better at 'leave it'). Obedience training has been started and continuing would be highly recommended, in group lessons when possible and we think he might like agility. He loves outings and rides beautifully in the car. Barron is not fond of having his feet handled or grooming although he is getting better and now accepts having his feet wiped off on a rainy day and being gently brushed. We would not recommend him to be in a home with young children. Barron adores chasing after squirrels, and he is Not Cat Friendly. He is very food motivated and responds well to training treats. NOTE: He has been caught counter surfing and is pretty sneaky about it, so we can tell he must have practiced. If you are interested in adopting Barron, fill out an application online. For questions, contact Deborah Dickerson at (828) 863-2053 or via email Deborah.