Bouviers Available for Adoption
Thank you for your interest in adopting a Bouvier des Flandres. The Bouviers we offer for adoption have been screened by those knowledgeable in the breed and we feel they are very desirable dogs. We hope to provide them with excellent homes. For each Bouvier adopted, we ask payment for actual expenses incurred or a minimum of $300.00. To be considered as an adopter, please fill out an application.
In some cases, applicants submit an application for a specific Bouvier; in others, an open application is submitted for future consideration of Bouviers coming in to the program. Even if we do not have Bouviers listed as available for adoption, we encourage you to submit an application, as we try to look through applications that we have on file any time a dog comes into our care, and sometimes before they are posted on our website. Please know that many of dogs receive multiple applications, in which case we will look for the applicant that will be the best fit for that particular dog. If your application was not selected, it will remain on file for a year. We encourage you to continue to communicate with the Coordinator in your area regarding your interest, or if you wish to withdraw your application. At any time, direct any questions about the process, your application, or Bouviers to the Coordinator for your state or to the National Director.
Malcolm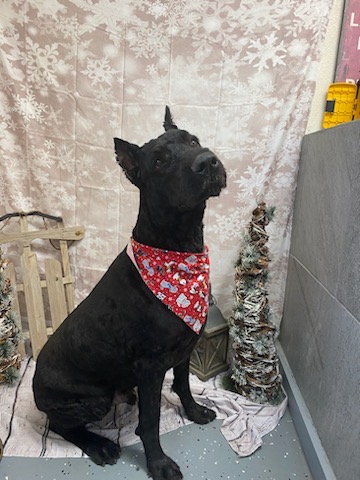 3 Years
Male
Cropped /Docked
Yes
Texas
FOSTERED IN TEXAS. This is Malcolm, he is a three year old, purebred Bouvier des Flandres neutered male. He is housebroken, good with other dogs (though prefers being with a special human,) crate trained, and while without separation anxiety, really wants to be with "his" person more than anything. He rides well in a car, and did well on full body lift-assists and being picked up during a family Christmas excursion by his young male friends to ride the back of a high vehicle for a woods walk. Malcolm has an old knee injury, which does need further evaluation, though he is very active and able physically.

What we know of his history is that he was purchased as a puppy by a family with children, but he chose as his job, guarding of the several household children, good with the kids, but overly possessive. Malcolm mandated No Visiting Kids Allowed, No Raised Voice Discipline of the Kids, and NO "Reckless" Running and Yelling without Supervision by the Bouvier! All difficult to accomplish with young kids, during a pandemic! So he was rehomed to an older man with a farm, but that person became ill, moved into a care situation and Malcolm was given to a young man who tied him to a tree in his yard, 365, 24/7, with several other dogs also tied for over a year. This was learned by contact with neighbors who called animal control after the young man died by suicide, leaving the dogs still tied to trees in the yard, with no provision for any care whatsoever. There was significant additional information that the canines were not always kindly treated. Malcolm was matted and uncared for coming into rescue, requiring a total shave down.

In Malcolm's current foster situation, he loves his physically fenced yard, and should have one in his new home. Other dog company is good too. He should live with just one or two adults, who would work to train him to walk better on a lead. He goes walking every day with an eight year old and four year old child, and other dogs on leash in a group. But he wants to explore, and does pull. Due to his less-than-positive treatment, Malcolm was good at the groomers but frightened and confused, and after over an hour on the grooming table it was clear he had enough of his matted hair being pulled. At the vets, He initially snuggled and greeted everyone, but when confined and held tight for injections, and bloodwork by these unknown people, he growled, so he was muzzled for safety, his included. When he eats his food, his foster Coordinator says he can have his dish moved and removed, and is able to be petted while he eats.

Malcolm was reportedly terrific with the family in his foster home over the six days of the Holiday, both genders, all ages, and other dogs. And his Fostering Coordinator, Dagi, thinks he is "a Gem." He is however, not a "starter" Bouvier. An experienced Bouvier owner and a physically fenced yard is a requirement. He would do well in an adult home, so he does not become possessive of kids, and someone who would be willing to socialize, take him for his beloved walks, and expose him to new situations slowly to build his confidence and rewrite his bad treatment (he is after all, a pandemic puppy on top of everything) as well as take him to training classes for polishing his leash walking skills, please. It is obvious he needs and wants a full life and his very own person. He would be OK as an only dog with sufficient human company, but not hours alone. Malcolm plays with toys and stuffed animals like any other youngster, and loves attention. Dagi thinks he has spent enough time alone and lonely, so an experienced, loving someone with time to spend with him and enjoy him would be optimal. if you are interested in Malcolm or would like further information or photos, contact Dagi or leave a message at (210)289-4463. To be considered as an adopter, please submit an application online.
Leo
10 Years
Male
Cropped /Docked
Yes
Wetumpka, AL
Leo is a 10 year old neutered male Bouvier. He is looking for a new home in which to retire because his owner is an Air Force Chaplain who moved overseas and could not take his dog with him. Leo is very sweet to his humans but does not enjoy the company of other dogs. As with many elderly dogs, he has some issues with his back legs and will do best in a single story home. Leo is being fostered i Wetumpka, AL. To be considered as an adopter, please submit an application online at www.abrl.org. Contact Frank or Corrine Dreyfus at (334) 567-8009 with any questions, or if you are interested in providing Leo with his forever home.