Bouviers Available for Adoption
Thank you for your interest in adopting a Bouvier des Flandres. The Bouviers we offer for adoption have been screened by those knowledgeable in the breed and we feel they are very desirable dogs. We hope to provide them with excellent homes. For each Bouvier adopted, we ask payment for actual expenses incurred or a minimum of $300.00. To be considered as an adopter, please fill out an application.
In some cases, applicants submit an application for a specific Bouvier; in others, an open application is submitted for future consideration of Bouviers coming in to the program; even if we do not have Bouviers listed as available for adoption, we encourage you to submit an application, as we try to look through applications that we have on file any time a dog comes into our care, and sometimes before they are posted on our website. Please know that many of dogs receive multiple applications, in which case we will look for the applicant that will be the best fit for that particular dog. If your application was not selected, it will remain on file for a year. We encourage you to continue to communicate with the Coordinator in your area regarding your interest, or if you wish to withdraw your application. At any time, direct any questions about the process, your application, or Bouviers to the Coordinator for your state or to the National Director.
BOGIE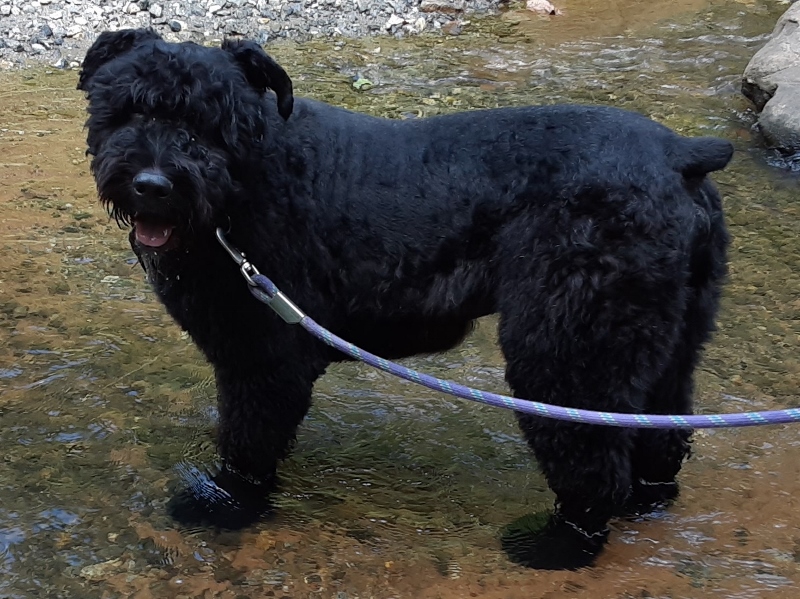 2 Years
Male
Natural/Docked
Yes
North Carolina
Bogart, aka "Bogie," is an 80 lb., 2 year old, purebred Bouvier des Flandres boy. He is black with a white milk spot (very handsome), exceptionally smart, charming and has a good sense of humor. As any good gentleman would be, he is housebroken and currently being fostered in a home in NC with his foster mom and three other well trained and socialized dogs (a senior Bouvier female, a two year female old Doberman mix and a 16 month male Standard Poodle). Bogie gets along well with other dogs, although he can play roughly so it is NOT recommended he be placed with: smaller dogs, cats, or children (read: no small dogs, cats nor kids!). He had lived in a household with three children, and was good, but became possessive, so no kids/grandkids. Bogie was not socialized nor trained during his formative period. Like working dogs do, he sought his own employment and, without the proper direction, began guarding the family from other people. In response, he was isolated when new people were added to the home during the pandemic and when outsiders were around, and subsequently became people-reactive. With his foster Mom, whom he trusts, he is bouncy, mischievous, affectionate and is learning to 'tone it down' when indoors with the other dogs. He is healthy, heartworm negative, was recently neutered, and is up-to-date with inoculations. Bogie has come a long way in this past month learning basic commands and skills. He is currently enrolled in a course to help teach him to manage his reactivity. This course was just started but he is doing very well on basic indoor skills (walking at your side, going to a mat and hand touches). Bogie needs additional work on not being reactive while out and about on a leash (to passing cars, bicycles and squirrels) and most importantly not reacting adversely to people he feels are too close for comfort both indoors and outdoors. He needs an experienced and knowledgeable Bouvier person who is willing to form a one on one bond and continue his education. As a young active dog, Bogie needs a securely fenced yard and regular exercise (maybe challenging him with agility and or scentwork, for example) is a must. He deserves a person who would give him the attention he has missed and deserves. It would be nice if he could have another Bouvier or rough and tumble large sized canine to play with. If you are interested in Bogie and meet his specifications, please fill out an application on-line, and email Deborah Dickerson, and include your phone number.