Buyer Beware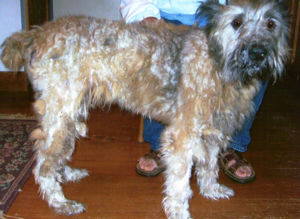 Should you decide to purchase a Bouvier from a breeder, you should be prepared to ask lots of questions. This applies whether you are buying a puppy or an older dog. And if you don't get answers to all your questions, or answers that satisfy you, be prepared to walk away... no matter how badly you want that Bouvier.
Some breeders have older dogs for whom they are looking for homes. If you encounter this, ask why the breeder wants/needs to place the dog.
For a puppy, both parents (the "sire" and "dam") should have been health tested. Ideally, both parents would have had the following tests completed:
Hips (OFA and/or PennHip)

Elbows (OFA)

Heart (OFA)

Eyes (CERF or OFA)

Thyroid (OFA)

At a minimum, the parents should have had the following tested:
Hips (OFA and/or PennHip)

Heart (OFA)

Eyes (CERF or OFA)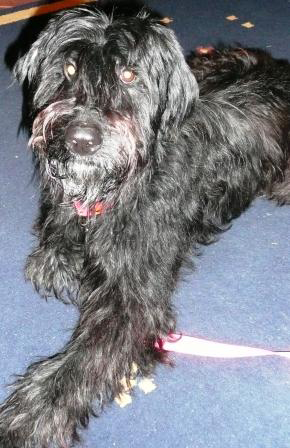 Ask to see the health certificates showing the results of these tests, or, in the case of OFA, ask the breeder for the parents' full names; you can then look up their certifications on the OFA website. The OFA website is also a good source for helping puppy buyers understand what these health tests mean, and why they are so important.
For a puppy or an older dog, you should consider:
Getting references (prior "customers") from the breeder and contact them.

Getting a vet reference from the breeder and call him/her.

Checking to see if the breeder is a member in good standing of the American Bouvier des Flandres Club. Check the ABdFC Breeder Referral list, too.

Asking knowledgeable Bouvier people if they have ever heard of this particular breeder and, if so, would they recommend him/her.

Finding out how many litters/puppies does this breeder breed per year; does s/he keep any? If not, why?

Reviewing the contract ahead of time to make sure you're comfortable with, and understand, its terms.

If thinking of co-ownership, be very careful. Some co-ownership arrangements work out well, but some do not. If you are part of a co-ownership with the breeder, you cannot have the puppy spayed/neutered without permission of the breeder. Also, the breeder may have the right to take the dog over for breeding purposes and/or showing. If you do decide on co-ownership, definitely speak with people who have, or have had, a similar arrangement with the same breeder.

As with any major purchase, it pays off in the long run to take your time and do your research. If you purchase a Bouvier puppy, s/he will be with you for many, many years. There is no reason to make a hasty or uneducated choice when making this important decision.