Bouviers Available for Adoption
Thank you for your interest in adopting a Bouvier des Flandres. The Bouviers we offer for adoption have been screened by those knowledgeable in the breed and we feel they are very desirable dogs. We hope to provide them with excellent homes. For each Bouvier adopted, we ask payment for actual expenses incurred or a minimum of $300.00. To be considered as an adopter, please fill out an application.

Tessa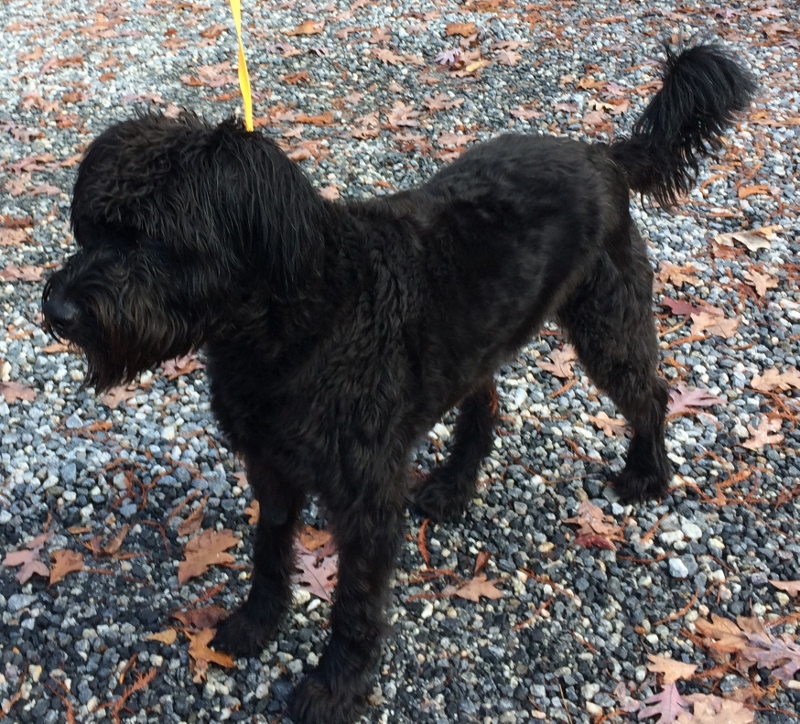 Tessa is a pure bred, black Bouvier des Flandres. This beauty has a natural tail and ears and is indeed a Bouvier! She is 7 years young and has had extensive obedience training. She was relinquished to rescue when her owners could no longer care for her. She is recovering from surgery to remove *benign* mammary tumors. She is up to date on her vaccinations and health care, and recently had her teeth cleaned. This lovely girl has a sweet temperament, but she does have prey drive, so a home with no small dogs or cats will be best. Tessa is smart and very active, and will need an active home that is able to get her the exercise she needs, or better yet, compete in dog sports with her. She is currently being kenneled at a veterinary clinic, and the veterinarian there loves her. To be considered as an adopter, please fill out an application online. For more information, contact Marcia.

Barney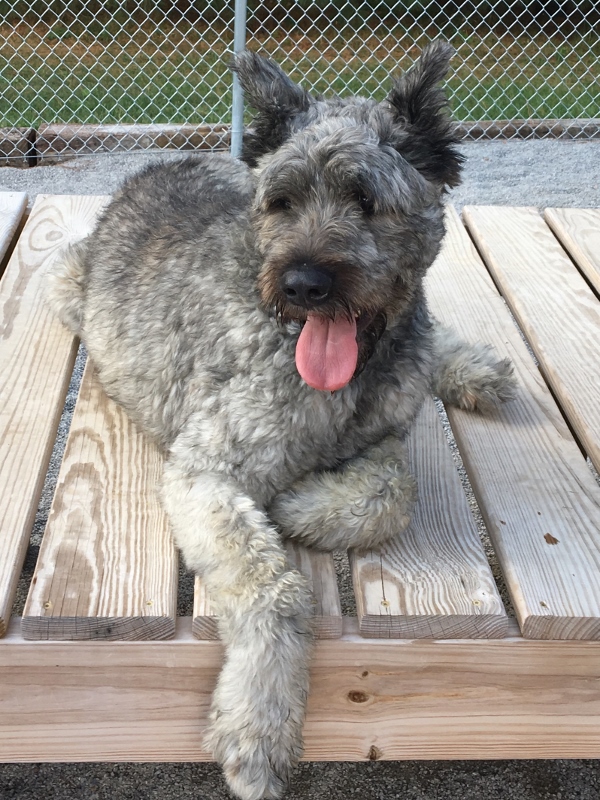 Hi! I'm Barney and I am looking for my one special person or couple to give me a forever home with a person willing to walk and hike with me. I'm a very good boy but I may be a little skittish when we first meet. This is probably because of spending so much time alone when I was young. I was used as a stud dog in a breeding situation. Most of the time, I lived alone in a very small cage. Give me a couple of days to warm up to you; taking me on a walk on a leash may be the best way to bond with me. My favorite thing is just spending quiet time alone with my people, but I also love a good romp off leash! I don't like being kenneled when I am alone. I am afraid I might get stuck in there like I was at the puppy mill. When I have to be alone, I can keep myself occupied with a kong toy, loose in the house. I'm usually pretty good with other dogs of any size, I love people , big and small, as long as they are dog savvy and well mannered! From Barney's Foster Home: Barney is a male Bouvier, 3.5-4 years old, maybe younger, who is neutered, up to date on vaccines, and heartworm negative. The consensus is that Barney would be best matched with a gentle, soft-spoken person. He responds quickly to even, quiet direction. He wants to please but because of his past he sometimes doesn't know what, exactly, we want from him. He'll require a person who won't overreact to his mistakes, as big reactions make him cower and pull back from interacting. Whenever he seems confused or overwhelmed, I take extra time and sit with him, pet him, reassure him, speak gently with him and within seconds he is happy again. He can be shy and timid, but comes out of his shell quickly. He is a fast learner! "Come", "sit", "stay" have been easy for him to grasp. He is is just learning his name. Barney catches on to routine REALLY fast. He anticipates what is coming next for him. He has become VERY sociable with a few other neutered dogs lately. He even does the "bouvy bounce" at Mach speed! Watch out, though, because his braking system isn't always as quick as it should be. I've been bonked in the head and knees a few times! His kennel and crate are always clean. No potty or food messes, ever. He doesn't chew toys or blankets or beds to pieces either. He is just getting the hang of playing with a tennis ball... but preferring to lay down and chew on it like it's a piece of gum. He hasn't retrieved or dropped it for us yet but we are working on it. He likes to lie around and just chill, while watching what's going on around him. Barney needs to put on a *few* pounds, but that should not take long. He is a avid hiker and loves walks! He likes car rides in the back of my van, and doesn't eat the upholstery off the seats! Or get carsick! He follows me EVERYWHERE! He goes into his crate easily and seems to be very comfortable being in it. At night, he sleeps next to my bed and does not move until I do. He is being fostered in Texas. To be considered as an adopter, please fill out an application online. For more information, contact Dagi.

Cosette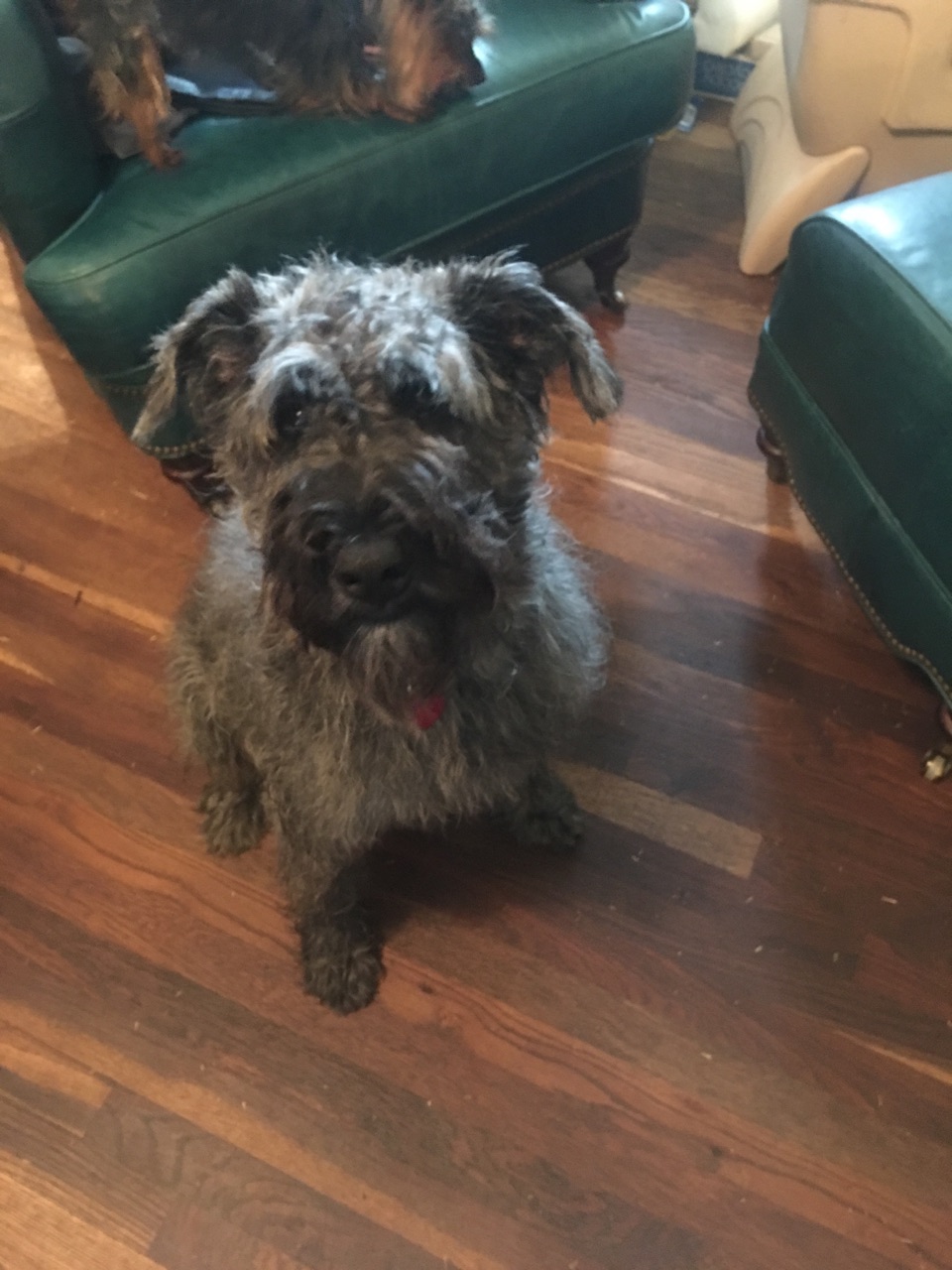 Despite Cosette's initial incarceration at a puppy mill she has evolved into a precious, affectionate, impish little girl. I call her my "Velcro girl" because she follows me everywhere and lays at my feet with her head or paw on my foot. I am amazed at how social she is for being a mill puppy! Her smoking grey coat with her black masque gives her a distinctive presence. She loves having her ears rubbed and her back scratched. She gets along well with the other dogs in the house, dying to play with them, but they are just too old to find her antics amusing! Cosette should go to a home without active children; she also seems to prefer women. She was never housebroken but we are working on that! Miss Cosette does not like to go out into the backyard unless I have her on lead. When I remove the lead she will take care of business and will race and bounce Bouvier style around the yard. I have her on a timed regimen to go because at this point she has not yet learned to let me know. However, she has not soiled her crate when I have left her there overnight, nor when I have left the house to run errands during the day. She has done some submissive wetting when I have put on her lead to take out to the back yard. She can also be a little unsure crossing the tile floor in my kitchen, which is between the living room and the back door. She possesses a strong prey drive directed at squirrels and cats. Loud noises and slamming doors frighten her. Cosette is a sweet girl, who makes every effort to please despite what she has had to endure in her young life. Cosette has her natural ears and a docked tail. She has been estimated to be 3 1/2 years old, but seems younger. She is just under standard in height and weighs less than 60lbs. She has a voracious appetite and has been making up for lost time! She is up to date on shots, spayed and Heartworm negative. She is being fostered in Amarillo,TX. To be considered as an adopter, please fill out an application online. For more information, contact Dagi.

Acadia: URGENT
***URGENT***. UPDATE: Acadia must be moved out of her home ASAP! Acadia just turned six years old in September. She is AKC registered and spayed. Her vaccinations are up to date. She is approximately seventy pounds, natural ears, docked tail, brindle coat (she prefers her coat short). Acadia is eager to learn and does a few tricks. She has a very bubbly personality and can be very loyal. She likes to share a bed with her people and lounge on the sofa. She likes to toss stuffing-less toys around and gnaw on other toys. She is crate trained and house broken. She is used to wearing a collar, but does not walk well on a leash. She does love to ride in the car. She also enjoys being outside in a fenced yard where she can explore as she pleases. Acadia has some challenges that she will need help with on a daily basis. In Spring 2015, Acadia was diagnosed with Lyme Disease. She underwent a month round of antibiotics. There did not seem to be any other health issues along with that. During the summer of 2015 Acadia developed severe quick onset glaucoma in one eye, which caused blindness. She saw a veterinarian ophthalmologist who recommended that her eye be removed for health and comfort reasons. She had her eye removed and a biopsy performed. The results did not indicate that it was a genetic issue; it is possible that the glaucoma is the result of the Lyme Disease. In Winter 2015, Acadia developed severe glaucoma in her second eye, causing her to lose all sight. Her second eye was removed in March 2016. She has adapted well to her surroundings. She is able to walk around the house and fenced yard without bumping into many objects. She seems as if the blindness does not affect her in many ways, but she has trouble in others. Acadia has difficulty with strangers and needs time to become used to new people. She can be stubborn when she wants to be, but can be coaxed with treats. She would be best suited for home without other pets or children. Her blindness causes her to become easily agitated when there is a lot of commotion, particularly around young children. She prefers a calm relaxed environment to ease her anxiety. To be considered as an adopter, please fill out an application online. For more information, contact Lena.