ABRL Store: Sale!
The ABRL store will be closing in the future, so everything in our inventory is on sale! Take advantage of these great prices to treat yourself to some logo'd merchandise, or purchase a few items as gifts for that favorite Bouvier person in your life! Questions about merchandise? Contact Vicki at store@abrl.org or (301) 466-3572. For international orders, or orders over $125, please contact Vicki for shipping information. While supplies last, orders over $10 will receive a free keychain; orders over $25 will receive a free oval car magnet! (No need to add to your cart.) Exclusive of shipping, other fees. One free item per order. Thanks for your support!
Please note: inventory on some items is limited! When an item is sold out, it's gone, there will be no re-orders of merchandise. We'll do our best to keep our store website up to date, but ask for your understanding and patience if an item you order is out of stock.
ABRL Logo T-shirts

Show your support for the ABRL with our bold logo'd T's.
100% cotton.
Red, yellow, or blue
Sizes: S-M-L-XL-2XL (note: yellow - no size L or 2XL)
Price: $15 $10
ABRL Logo Insulated Lunch Bag
Keep meals (yours or your Bouvier's!) cool in your new insulated cooler with its easy to clean waterproof lining, zipper front pocket and adjustable strap.
Dimensions: 9.375" H x 6.5" W x 4.25" D
Red, yellow, or blue.
Price: $12 $8
ABRL Logo Waist Pack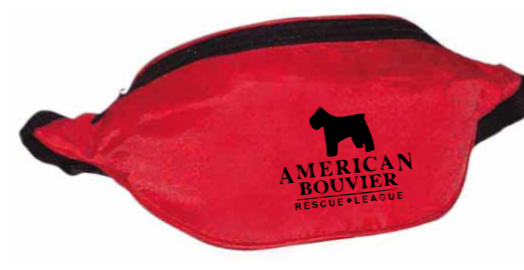 One pocket waist pack. Polyester/nylon. Large capacity, zippered main compartment, adjustable waist belt. Keeps keys, dog treats, waste bags, money, and other necessities within reach.
Dimensions: 9 "H x 5" W x 3"D
Red or blue.
Price: $10 $5
ABRL Logo Umbrella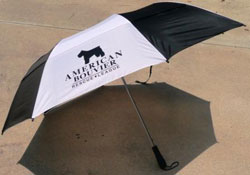 Generous sized umbrella to keep you and your Bouv dry on even the nastiest of days. Folds down to half size; includes carrying case.
Dimensions: 50 inch umbrella canopy measures with 36 inch handle (when open).
Black & white.
Price: $20 $15
Bouvier Earrings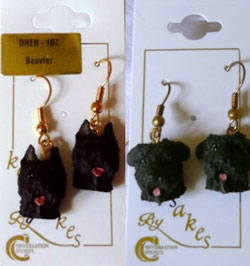 Pierced.
Price: $8 $5
Cropped ears (only one pair left!)
ABRL Oval Car Magnet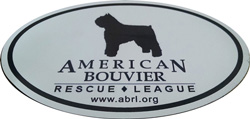 Support ABRL on the road! Neat car magnet lets people know you support Bouvier Rescue.
Heavy duty vinyl magnet
No sticker residue!
Dimensions: 4" x 6"
Price: $5 $2
ABRL Key Chain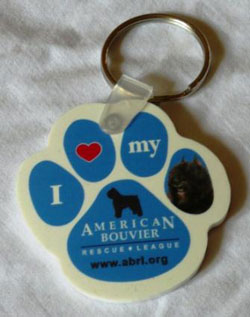 Soft, pliable key chain great for an extra set of house keys or for that special pet sitter in your Bouvier's life.