ABRL Store
ABRL logo'd products help raise funds to support the ABRL and they make great gifts, too! If you prefer to order via mail, click here for a PDF of an order form. Otherwise, you can order on-line via PayPal, below. If you have questions about merchandise, contact Vicki at store@abrl.org or (301) 466-3572. For international orders, or orders over $125, please contact Vicki for shipping information. Thanks for your support!
ABRL Oval Car Magnet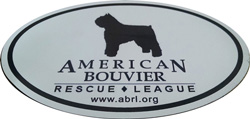 Support ABRL on the road! Neat car magnet lets people know you support Bouv Rescue.
Heavy duty vinyl magnet
No sticker residue!
Dimensions: 4" x 6"
$5 each

ABRL Logo T-shirts
Show your support for the ABRL with our bold logo'd T's.
100% cotton.
Red, yellow, or blue
Sizes: S-M-L-XL-2XL.
Price: $15

Bouvier Cell Phone Cover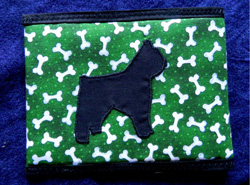 Hand made by ABRL Hawaii Coordinator, Barb Sterne, this clever, beautifully handcrafted personal device cover with velcro closure for your cell phone, iPod or other device will keep it from getting scratched, dirty or otherwise injured. Barb has donated a limited number of these covers to the ABRL, with all proceeds going to rescue.
Exterior measures 5" x 4";
Interior measures 4.5" x 3.25"
Price: $8

ABRL Logo Insulated Lunch Bag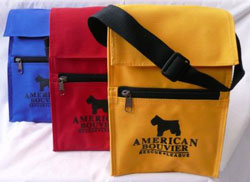 Keep meals (yours or your Bouvier's!) cool in your new insulated cooler with its easy to clean waterproof lining, zipper front pocket and adjustable strap.
Dimensions: 9.375 H X 6.5" W X 4.25" D
Red, yellow, or blue.
Price: $12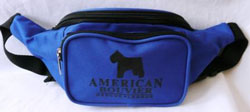 ABRL Logo Waist Pack
TEMPORARILY OUT OF STOCK. CONTACT STORE@ABRL.ORG FOR INFORMATION. 600 denier polyester waist pack keeps passports, credit cards, and other necessities within reach. Three generous zippered compartments.
Dimensions: 13.375 "H x 4.5" W x 3.875"D
Blue only.
Price: $10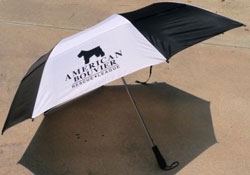 ABRL Logo Umbrella
Generous sized umbrella to keep you and your Bouv dry on even the nastiest of days. Folds down to half size; includes carrying case.
Dimensions: 50 inch umbrella canopy measures with 36 inch handle (when open).
Black & white.
Price: $20
Bouvier Earrings
Available in natural ear or cropped ear styles; pierced.
Price: $8
Natural ear
Cropped ear
ABRL Key Chain
Soft, pliable key chain great for an extra set of house keys or for that special pet sitter in your Bouvier's life.